Our 2019 Annual Dinner & Awards Celebration recognized the ways that MVLE is lighting the future through program innovation and community partnerships.
The needs of our individuals and community are evolving. The demands placed on our industry are growing. In order to best serve our community, we must innovate our program models and enhance our service options. Together, with your support, we are doing just that and making strides in innovation. Through MVLE Moves, our inclusive performing arts program; our expansion of services to TANF (Temporary Assistance for Needy Families) populations in Loudoun County; and our hydroponic garden program- our team is working to keep MVLE at the forefront of our industry.
The evening's celebrations highlighted one of our innovations- the MVLE Moves inclusive performing arts program. Through a partnership with BodyWise Dance, we are providing a creative outlet for individuals with disabilities and the opportunity to shine on stage alongside professional actors.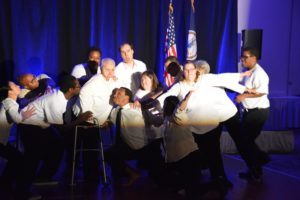 The MVLE Moves ensemble performed an original dance to "Stand in the Light." View that dance here- https://www.youtube.com/watch?v=i8QuBXlWNG4.
There was tremendous energy and excitement in the room, as people from across our community turned out to celebrate the accomplishments of the individuals we serve, and recognize our donors, business partners, sponsors and friends. We were also honored to have Jenna Gabriel, Manager of Special Education at The John F. Kennedy Center for the Performing Arts, join us a special guest speaker.
The presentation of the President's Award to four remarkable individuals— Katherine Parfitt, Henry Gonzalez, Darlene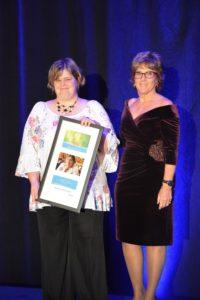 Rivenbach and Yoon Chung. Congratulations to Katherine, Henry, Darlene and Yonn for all they have accomplished!
After the President's Award presentation, Darlene said a few words about her journey and support from MVLE.
Darlene spoke about her 11-year tenure working at The Virginian sharing, "It felt great to have a job and go to work every day. I felt pride each time I opened my paycheck and saw the money I had earned." Darlene went on to talk about her latest job advancement- moving into independent employment- "But I was ready for more. Again, I was nervous. But excited. I am excited to share that I was hired by Safeway in February." Congratulations Darlene on all that you have accomplished!
We also had the opportunity to recognize a few of our partners with the 2019 Community Partner awards. This year's awards were presented to:
Advocacy Champion- Sean McGuiness, Executive Director, Hartwood Foundation
Social Responsibility- Joey McCracken and the Mt. Vernon Columbus Club
Employment Partner- ANVIL Systems Group
Government Partner- Defense Acquisition University at Ft. Belvoir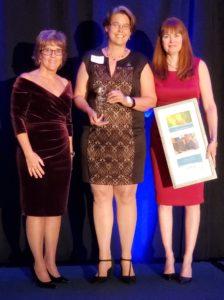 The 2019 Chairman's Award was presented to Lend-A-Box. Lend A Box was first introduced to MVLE in 2018 through one of our Board members, John Pellegrin. Stephanie met the team at MVLE and we officially started working at the Lend A Box warehouse in September 2018. Currently, six MVLE individuals work once a week for two hours helping to clean and prep the moving boxes. Most exciting is that each individual is earning minimum wage on this job!!
Our work would not be possible without the many sponsors, supporters, donors and friends who are the heart of the MVLE community. Many thanks to our Annual Dinner Sponsors Northrop Grumman Corporation, MediSked, ANVIL Systems Group, Hilton Springfield, Mutual of America, The Keeler Family, Michael Smith, and Cathy Pennington. Our business and government partners have always believed in our individuals–they know what they can do.