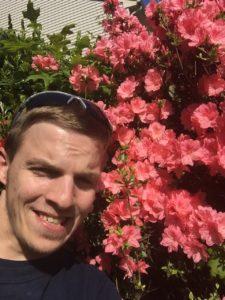 People with intellectual disabilities are widely excluded from the workplace, but they don't have to be. Jeremy Duston's story shows that supported employment in the community can be life-changing—bringing happiness, independence and a sense of self-sufficiency to the individual, and dedicated and talented employees to the workplace.
Jeremy is a jack of all trades around Greenspring Village, a retirement community in Springfield, VA. His primary job is washing dishes, but he also retrieves hot boxes from residents and generally makes the rounds, talking to his many friends in the community. It's what he likes doing best.
"Jeremy is a very likeable, fun-loving guy, someone who is very enthusiastic and always helpful," said Courie Pulley, MVLE Site Manager for Greenspring.
Jeremy didn't have a job when he first came to MVLE ten years ago. Cheryl Simpkins, Program Manager of Compliance, worked with Jeremy back then, as a Behavior Support Specialist. "Jeremy is very engaging and loves to work and socialize," she said. "He is one of those people who never meets a stranger. At the time he was cleaning offices and might help himself to candy or gum on someone's desk. There were occasional verbal exchanges that could be regarded as inappropriate, and with his exuberance, Jeremy likes to hug people, which could make someone uncomfortable."
Jeremy lost the office job, possibly because of the combined missing items and excessive socialization, He returned to MVLE's community center's part-time employment division for additional training and supports. It was a setback for Jeremy, who loves to be out and about.
With decades of behavioral support experience and sharp intuition, Cheryl, working with the staff and family, determined that Jeremy's challenges were relatively minimal. He just needed to understand which parts of his behavior he had to control, understand why, learn the rules, and incorporate strategies to help himself adhere to those rules– even if someone at work told him it was OK to deviate, he must follow the rules MVLE has in place.
"These were just things that Jeremy needed to learn, which he did through role modeling and in conversations with me and others at MVLE," Cheryl said. "Jeremy would actively ask for advice or guidance on how to come to a positive resolution if he was having a problem."
Jeremy, now 33, was diagnosed with an intellectual disability as a child. He graduated from high school with accommodations, and participated in work awareness training programs. He held a series of jobs after graduating, cleaning parking lots, delivering papers, and wiping down gym equipment.
Tod Duston, Jeremy's father, saw clearly that Jeremy was high functioning enough for more challenging work. There was a series of meetings and MVLE agreed, and began to look for a more suitable placement.
"MVLE really listened to me, and that worked out really well." Tod said. "He worked about 30 hours per week and couldn't wait to get to work in the morning."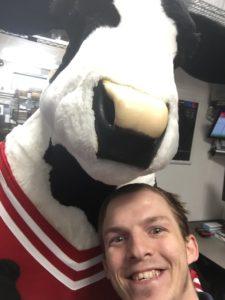 The job that Jeremy really loved was at Chic Fil A. "You could just feel his excitement when you were talking with him," said George Reid, MVLE Chantilly/Springfield Group Support Site Manager. "Jeremy was a hard worker. He could complete all his task with minimum supervision, plus other's if allowed. At Chic Fil A Jeremy got the opportunity to fill the drink machines, the ice machines, and even to fill drinks up for the customer orders. He would sometimes call me in the evening and tell me about his day, and he would always say how much he loved his job."
A concern prior to the placement was that Jeremy is what George calls a "girl watcher." MVLE staff worked with Jeremy to help him understand the principle of giving people space, both physically and in conversation. There were never any complaints about Jeremy in the two years that he worked at Chick Fil A.  In fact, it worked out so well that Jeremy was on track to be hired outright when the pandemic hit. Like many others, Jeremy was suddenly unemployed.
During the lockdown, MVLE offered three one-hour group sessions daily, and Jeremy attended all three. Many days it was just Jeremy and George. "Jeremy would share his morning with me, from what he had for breakfast to everything he would see during his walks. We talked about football, which he loves, and he loves school busses, so he would tell me which ones he saw, by their numbers. He also really enjoyed the opportunity to watch videos and discuss of all types of working professions."
Jeremy jumped at the first opportunity to return to work, and he adjusted quickly at Greenspring. He is far more under control than when he first joined the agency, but over-socializing remains his biggest challenge," said Courie Pulley. "He works independently and functions well with a lot of reminders, a lot of dos and don'ts. He understands there are real world consequences to certain behaviors, like having to miss work for a day if he breaks the rules."
Jeremy has shown continuous growth over the decade that he and Tod have worked with MVLE. During that time, he began setting his own goals and looking ahead at potentially challenging situations. He developed the capacity to assess his own behavior in these situations, and a personal plan to manage them if he became scared or nervous.
"I have witnessed Jeremy's growth in many ways as a person," George said. "He has matured as a young man and understands responsibility, dedication, and hard work. He has absorbed a lot of knowledge from the people he works with at MVLE that has allowed him to continuously develop his work skills and professional behavior. I think our success with Jeremy stems in part from our commitment to building trust and allowing people to be themselves. His success can be attributed to many people but most importantly himself. Kudos to Jeremy Duston."
"Jeremy and I have had a great experience working with MVLE," said Tod. "We set goals, did evaluations and worked on behavior plans, and we really appreciate their involvement, caring and consistency. I can be a little hard on Jeremy sometimes, and with MVLE's support Jeremy turned himself around, just being around all these wonderful people and being able to help other kids, that really brought a change in him and helped him to grow up."
Jeremy is currently being considered for full-time work at a hospital, as a direct hire with independent support. When the call comes, he'll be ready. "Jeremy loves being out in the world working, and loves earning his own money," Tod said. "Even when he's not working he loves to be at one of MVLE's Job Centers, helping out and being among friends."